"Ashes to Go" Brings Ash Wednesday into the Community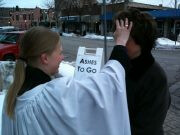 Sometimes it's hard to get to church on a Wednesday. There's soccer, meetings, traffic, dinner, errands and much more to squeeze into our days. But Ash Wednesday is about confessing the messiness of our lives, and claiming our desire for renewal, forgiveness and healing. It belongs in the messy places of our lives: the commute, the meetings, the kitchen, classroom or office.
Visit Ashestogo.org to learn how to establish Ashes To Go in your community.