Altar Guild is a special lay organization of men and women, charged with the maintenance and preparation of the altar and its furnishings in a church. The altar guild may also supervise church decorations and flowers. The church rector or vicar appoints a leader and invites members to participate in the altar guild.
Altar Guild Prayer
Almighty God, grant, we beseech thee, that we may handle holy things with reverence, and perform our work with such faithfulness and devotion that it may rise with acceptance before thee and obtain thy blessing: through Christ our Lord. Amen.
Mission Statement
The mission of the Altar Guild is to bring men and women together for sharing gifts of fellowship, service, and to aid to clergy, deacons and bishops within the Diocese of Texas.
Altar Guild Manual
Click here to download a copy of the Altar Guild Manual in English
Click here to download a copy of the Altar Guild Manual in Spanish


Retreat Attendees at the conclusion of the 2022 Altar Guild Retreat with the Rt. Rev. Jeff Fisher and the Rev. Cindy Clark, Chaplain of the Diocese of Texas Altar Guild
Altar Guild Retreat
June 1-3, 2023
Camp Allen
Navasota, TX
Click here to register

Altar Guild Officers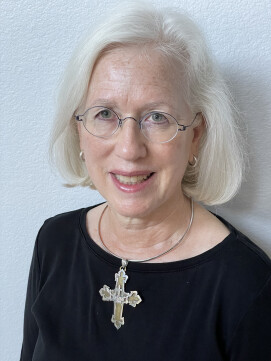 Director: Kate Canby
St. Matthews, Austin, 512.636.9010

Chaplain: The Rev. Cindy Clark
Holy Innocents, Madisonville
Regional Representatives:
Austin (Lago Vista, LaGrange):
Mary Ann Conkel
St. Richard's, Round Rock, 512.925.9758

Central (College Station, Columbus, Madisonville):

Galveston (includes Pearland):
East Harris (East of I-45 to SW Frwy, inside Loop 610):

West Harris(west of I-45 to SW Frwy, west of Loop 610):
Rebecca Robertson
St. Andrew's, Houston, 281.782.6229
Northeast Texas (Tyler, Jefferson, Crockett, Lufkin):
Northwest (Waco, Killeen):
San Jacinto (Cypress, Huntsville, Livingston):
Southeast (Beaumont, Orange):
Ginnie Rotsch
St. Paul's, Orange, 409.962.6909
Southwest (Lake Jackson):
"All men and women who have been confirmed are eligible for Altar Guild work. Membership in the guild should be at the invitation of the rector or vicar. Because of the high privilege of serving in God's sanctuary and at His altar, the priest will choose those whom he or she feels have shown a deep love for our Lord, His church, and altar."