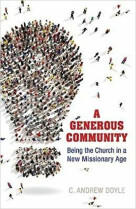 A Generous Community: Being the Church in a New Missionary Age
GENEROUS COMMUNITY is a book that invites the reader to wade deeply into the transformative work of being church in a new missionary age. This book is designed for the person in the pew. Not unlike the reformers who hoped to inspire a change within the church of their time, this book is for every one who wishes to take on the work of mission through evangelism and service for the sake of God's reconciling work and for the hope of community transformation.
Clergy and Thought Leaders: GENEROUS COMMUNITY (Church Publishing) is the partner book to CHURCH (VTS Press) for the building of cadres of leaders to help you transform your mission in the new mission context in which we find ourselves.
View the Amplified Church website to learn more about Bishop Doyle's vision of missional communities and transforming the neighborhoods where we worship and serve.
Comments
Login/Register to leave comment