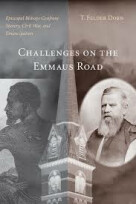 Challenges on the Emmaus Road: Episcopal Bishops Confront Slavery, Civil War, and Emancipation
While slavery and secession divided the Union during the American Civil War, they also severed the Northern and Southern dioceses of the Protestant Episcopal Church. In Challenges on the Emmaus Road, T. Felder Dorn focuses on the way Northern and Southern Episcopal bishops confronted and responded to the issues and events of their turbulent times.
Prior to the Civil War, Southern bishops were industrious in evangelizing among enslaved African Americans, but at the same time they supported the legal and social aspects of the "peculiar institution." Southern and Northern bishops parted company over the institution of slavery, not over the place of blacks in the Episcopal Church. As Southern states left the Union, Southern dioceses separated from the Episcopal Church in the United States.
The book's title was inspired by the Gospel of Luke 24:13-35 in which the resurrected Jesus Christ walked unrecognized with his disciples and discussed the events of his own crucifixion and disappearance from his tomb. Dorn perceives that scriptural episode as a metaphor for the responses of Episcopal bishops to the events of the Civil War era.
Dorn carefully summarizes the debates within the church and in secular society surrounding the important topics of the era. In doing so, he lays the groundwork for his own interpretations of church history and also provides authentic data for other church scholars to investigate such topics as faith and doctrine, evangelism, and the administrative history of one of the most important institutions in America. Dorn devotes the final chapters to the postwar reunification of the Episcopal Church and Southern bishops' involvement in establishing the Commission on Freedmen to offer help with the educational and spiritual needs of the recently emancipated slaves.
Comments
Login/Register to leave comment