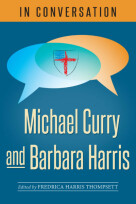 In Conversation: Michael Curry and Barbara Harris
"Jesus can't make everybody happy, and neither can you," Bishop Barbara C. Harris tells Presiding Bishop Michael B. Curry in a new book from Church Publishing, edited by Fredrica Harris Thompsett. Based on two days of face-to-face conversation between these two friends, the book includes stories about their families and the strong women who shaped them, their vocational exploration, preaching, justice and racism, and their hopes for the future and one another.
"In Conversation: Michael Curry and Barbara Harris" is the first volume of Church Publishing's new In Conversation series focusing on dialogues between leaders. Following Curry's election as presiding bishop and primate of the Episcopal Church, Thompsett, a historian and friend to both, found herself wondering,
What had brought these two "first" holders of high office to this day? What traditions, what strengths, what struggles both personal and political did they share, or not? Their leadership is multigenerational, as they are over twenty years apart in age. What different burdens, opportunities, and hopes are they carrying? How did they view each other's leadership? How would they support each other in the days ahead?
These and other questions were the impetus for the 2016 conversation which became this book. "Barbara and Michael not only bring boldness and courage," writes Thompsett, "these 'faithful witnesses,' as they like to be identified, also have much to teach us."
Michael Curry, serves the Episcopal Church as its 27th presiding bishop. He was the bishop of North Carolina from 2000 to 2015. He has had a national preaching and teaching ministry, has been featured on The Protestant Hour and Day 1, and is a frequent speaker at conferences around the country.
Barbara Harris is the first female bishop elected by the Anglican Communion (1989).
Fredrica Harris Thompsett, a historian and theologian, is the Mary Wolfe professor emerita of historical theology at Episcopal Divinity School.
Comments
Login/Register to leave comment