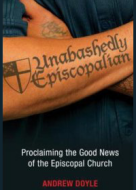 Unabashedly Episcopalian: Proclaiming the Good News of the Episcopal Church
Episcopalians newly discovering their church home or long-time members who may have forgotten why they love the church will appreciate Unabashedly Episcopalian. Bishop Andy Doyle has mined the Baptismal Covenant and his own experiences leading the Diocese of Texas. The result is a heartfelt, smart and practical book that calls Episcopalians to wake up to the church's unique gifts and story, and equips them to share that witness in their neighborhoods and out in the world.
• Practical, humorous and insightful book by the bishop of one of the most mission and evangelism-minded dioceses in the Episcopal Church

• Ideal for new-member, confirmation, and group study classes, plus lifelong Episcopalian
Download
Book Study Guide
1
Download Book Study Guide 2
Welcome to visitors
from Bishop Andy Doyle
View the Amplified Church website to learn more about Bishop Doyle's vision of missional communities and transforming the neighborhoods where we worship and serve.
Comments
Login/Register to leave comment