Diocesan ECW Outreach Grant Information
ECW Outreach Grants are awarded up to three times per year based on the applications received
The criteria are as follows:
The focus of all ECW grant applications must be on women's issues or related family/children needs.
There must be a documented connection between your outreach ministry and the Episcopal Church.
Grant awards are designated primarily to provide seed money to support new programs or to grow existing ministries.
A balance will be maintained in awarding grants across Diocesan convocations whenever possible.
The grant funds must stay within the Diocese of Texas.
A Letter of Recommendation from your Priest or Head of Congregation must accompany your application.
Your completed grant application must be received 30 days before a scheduled ECW board meeting.

Scheduled board meetings for 2020 are:
January 24
April 24
August 7
Please email the completed application to ECW Outreach Coordinator
Contact the ECW Outreach Coordinator if you have any questions.
2019 fALL Recipient - st jOHN'S SEALY OUTREACH TO THE oAKS RETIREMENT HOME

St. John's is the only church in Sealy to provide monthly services to this low-income retirement home in Sealy. Over the last 5 years, they have provided canned goods, butter, eggs, milk and fresh fruit and vegetables to 10-12 residents at the end of the month when in most cases their government funding has run out. They also gift each of the 42+ resident with a $10 gift card to Walmart as a Christmas gift. They also have instituted a luncheon for the residents and hope to be able to expand to several times each year. The church has begun a monthly open plate outreach Sunday to offset fluctuations in individual donations. Clearly their needs cannot be met by their efforts so our ability to sustain and possibly grown our services is critical.

Their interest is to expand their outreach to not only provide food but also some specific hygiene requirements for the residents. It was discovered that the gift cards were being used for "Depends" to allow them to not only comfortably attend doctor's appointments, but many were not leaving the facility to spend holidays with their families for fear of embarrassing issues of incontinence. Moreover, when facing lack of food, many are forgoing basics like toothbrushes and toothpaste. St. John's Sealy's interest is to be able to use the grant money to provide hygiene products that will allow them to live healthier and more independent lives.


2019 SPRING Recipient - st thomas the apostle and COMMUNITIES IN SCHOOLS

St. Thomas the Apostle in Nassau Bay, TX is a church that works with McWhirter Elementary through Communities in Schools. This school in Webster, TX is a large Title I school with approximately 80% of the students on the free lunch program. St Thomas the Apostle provides throughout the year to help support the children and families with school supplies, shoes, holiday meals and other needs, as requested.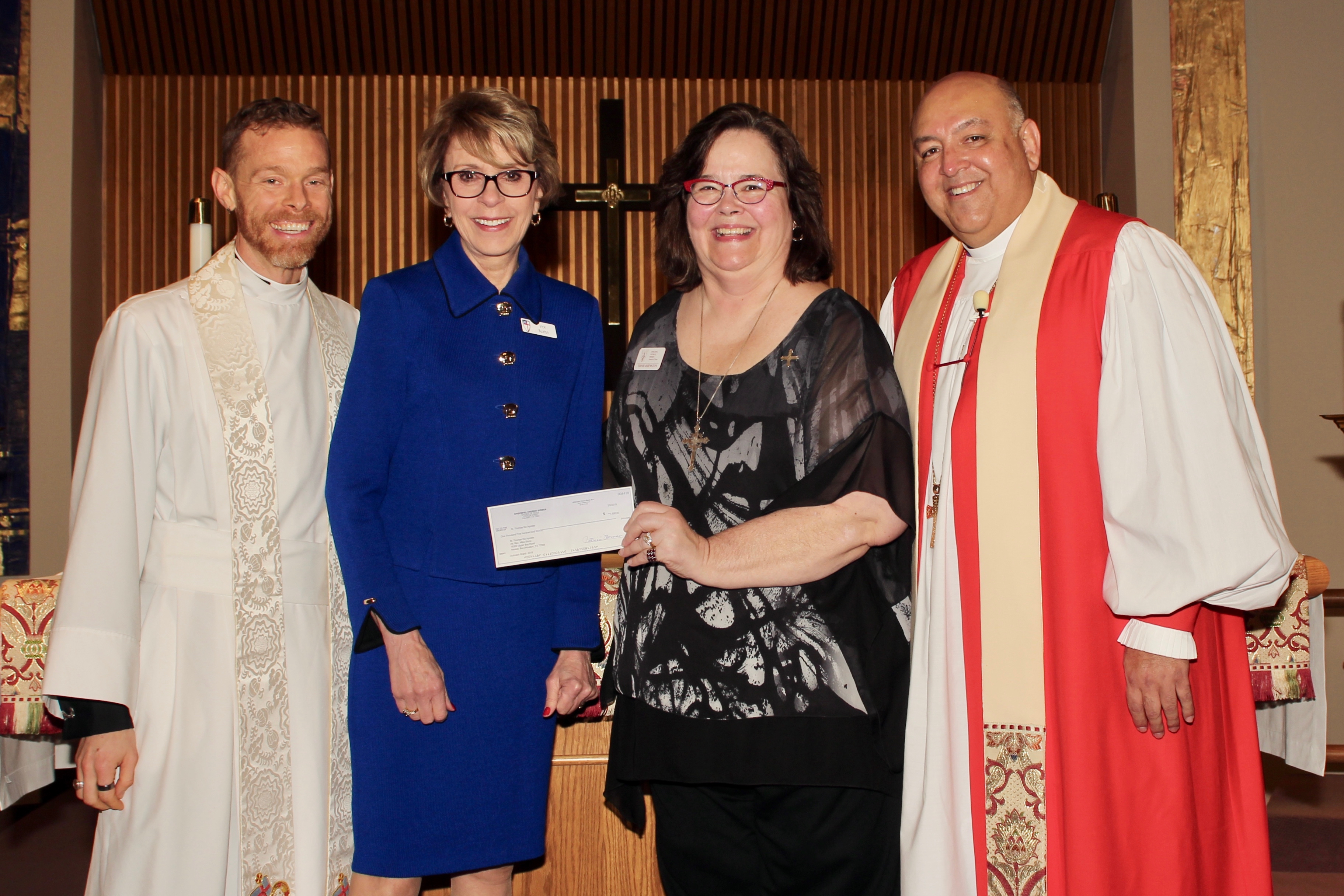 Pictured: Fr. Mike Stone (Rector), Vicki Buxton (grant writer), Trish Johnston, Bishop Hector Monterosso.
2018 Recipient - Community lunch & necessities pantry

St. John's Episcopal Church in Columbus, TX is a small church whose members prepare and provide lunch for the less fortunate in the community. This includes the main meal, salad, vegetables, bread, dessert and a drink. From 100 to 145 people are fed on the third Friday of each month. Necessities such as toilet paper, diapers, cleaning supplies and paper towels are also provided.
2017 Recipient - Magdalene House, Austin
Lisa Martin and Susan Gezana presented our Outreach Grant check to Beth Magill. The Magdalene House provides a safe healing Community for victims of human trafficking.