The Episcopal Church Women of the Diocese of Texas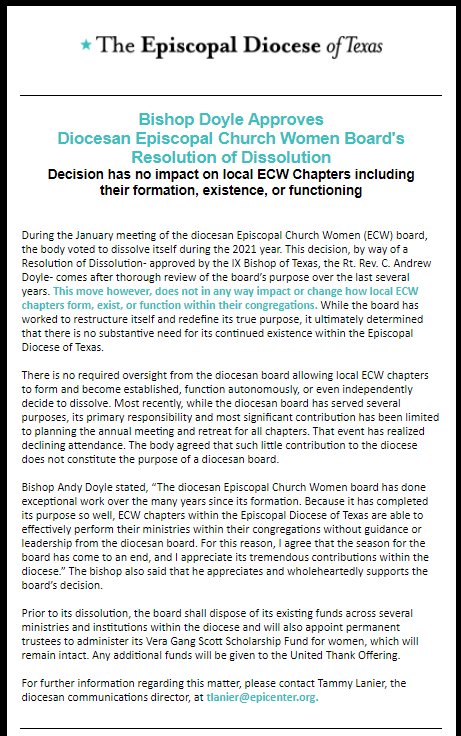 The Resolution for Dissolution can be found here. No grant funds are to be distributed until after the voting has been completed and confirmed by the Diocese.
Vera Gang Scott Scholarship applications remain due by March 31, 2021.
---
The Episcopal Church Women of the Diocese of Texas hope you will browse through our site to learn more and to answer your questions about our many facets as children of God and how we are called to serve Him. Our Purpose as the Women of the Episcopal Church of the Diocese of Texas is to empower each other to live the life for which Christ called us by sharing His love through outreach, fellowship and spiritual growth. The Episcopal Church Women of the Diocese of Texas is the fellowship of ALL women of the Church and is organized to enable the women to serve our Lord through Service, Worship, Education, Evangelism and Pastoral Care. All women in the parishes and missions of the Episcopal Church, Diocese of Texas, are members.
A Message from our President, Trish Johnston
Are Episcopal Church Women Relevant?
The Episcopal Archives of The Episcopal Church begins its description of ECW with the following sentence:
"The Episcopal Church Women (ECW) is the successor organization to the Church's most important fellowship and mission organization, the Women's Auxiliary to the Board of Missions/DFMS."—from The Episcopal Archives
'Most important fellowship and mission organization' (emphasis above is mine) Wow! Powerful stuff right?
Interest in ECW can be, in some sense, likened to ocean tides that ebb and flow. Truth is we are still strong because no matter if your church has an active group of women referring to themselves as an ECW or not, the bottom line is women need women. We need each other to share, to support, to encourage, and to work together in mission and ministry in our churches and in our neighborhoods. This past year we have had one church dissolve their ECW chapter, and we've had one church startup an ECW chapter and two more working towards startup as well. Ebb and flow.
Your church does not need to have a structured group of women to establish an ECW in your church. If you are a woman sitting in the pew of an Episcopal church, you are an EPISCOPAL CHURCH WOMAN! If you meet with other women in your church on ministries that you've established, or want to establish, why not call yourselves an ECW organization?
I've had someone recently ask me if ECW is even relevant in today's Episcopal Church cultures. The short answer is a resounding YES! We are relevant. We need each other.
"The nature of organized women's ministries has changed, but the need for Christian women to be together in community will never go away." --Mary MacGregor
As scripture says in Matthew 18:20 (NIV)
20 For where two or three gather in my name, there am I with them."
I am proud to be an Episcopal Church Woman, and strong enough to know that I need other women to fellowship with on my journey with Christ. Yes! ECW is relevant!
May you and the women in your church have continued blessings in the ministries you help empower!
Pax,
Trish Johnston, President
Diocese of Texas
Episcopal Church Women
ECW's Prayer
Almighty God, Heavenly Father, source of all knowledge and truth, be present with each of us meeting together as the Women of the Episcopal Church. Grant us open minds, compassionate hearts, honest words and gentle ways. Give us the grace to know your will, the courage to accept it and the strength to accomplish it. May we not forget the lessons from the past nor fear the challenges of the future. Bless us with your peace today and all the days to come, and may we ever pray, "Thy will be done". We live in your presence and pray in your Holy Name. Amen
Updated Bylaws
Click here to view the Approved ECW Bylaws
Annual Report
For questions concerning any of the financial operations of the Diocesan Episcopal Church Women, contact Patricia Johnston President. A copy of the report is available for your viewing.
Click here to view the 2019 Annual Report