EDOT Gallery Features Meredith Barineau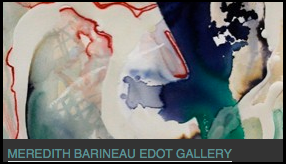 A native Houstonian, Meredith Knox Barineau attended St. John's School and thoroughly flourished in her studio art classes from an early age. She graduated from Vanderbilt University and double majored in English and Spanish literature while taking many classes in art history and studio art. Her creative aspirations led her to New York City where she first worked in the garment industry, eventually returning home to Houston to work in fashion as a jewelry buyer and later, she operated her own wholesale jewelry design business. Enjoying her continuing education at The Glassell School over the last 20 years, Meredith has been guided by the fine instruction of her teacher, American watercolorist Arthur Turner. In her work, she is inspired by God's creation in nature, her colorful travels and new techniques. Married over 22 years to Mark, Meredith is a proud mother of a son and a daughter, ages 18 and 15. Their family belongs to St. Martin's, Houston, where she served as ECW President in 2012-13.
Saturation of rich, jewel toned hues and layers of glazes define my watercolors. Although color composition leads my emphasis, the contrast of light and dark hues fascinate me with all their mystery and implied symbolism and adds an essential emotional element in my imaginary abstract pieces. I delight in approaching each piece as a multi-faceted puzzle that unfolds gradually throughout the creative process. As for techniques, I like to employ fluid wax passages and resist details in the paintings along with inks, gesso and watercolor pencils to create moody environments. I am most often inspired by the masterful details of the natural world and by divine creation and am especially drawn to unusual organic forms. As an artist, I aspire to constantly evolve in my painting and in my use of color, and be receptive to new directions and means of expression.
Solitary
2013

Watercolor, Beeswax, Gesso and Ink

46" X 32"

Conundrum
2013

Watercolor, Beeswax, Gesso and Ink

46" X 32"

Mystery
2013

Watercolor, Beeswax, Gesso and Ink

29" X 23"

Vault
2013

Watercolor, Beeswax, Gesso and Ink

29" X 23"

Seed-bearing
2013

Watercolor, Beeswax, Gesso and Ink

36" X 28"

Light from Dark
2014

Watercolor, Beeswax, Gesso and Ink

29" X 23"

Lightning
2014

Watercolor, Beeswax, Gesso and Ink

29" X 23"

Fruitful
2013

Watercolor, Beeswax, Gesso and Ink

29" X 23"

Likeness
2013

Watercolor, Beeswax, Gesso and Ink

29" X 23"

Cast your Nets
2014

Watercolor, Beeswax and Ink

29" X 23"

Fans
2014

Watercolor, Beeswax and Ink

29" X 23"

Emerald
2013

Watercolor, Beeswax and Ink

29" X 23"

Appearance
2013

Watercolor, Beeswax and Ink

29" X 23"