EDOT Gallery to feature Janita K. Lo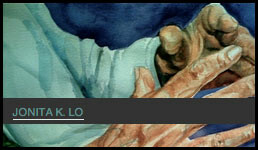 Janita Lo was born in China and received her primary education in Hong Kong before further study in Australia and the United States. She has been practicing as a professional interior designer in Houston since 1965. She has received numerous design awards and her work has been published in professional trade journals and highlighted on The Discovery Channel. Lo recently began writing stories about Khan Ling, her late father. The significant place her family holds in both Chinese and Japanese history spurred her to write his memoir, a story that stretches across three generations.
Lo loves painting, drawing, sculpture and fashion design. Her most recent paintings focus on portraits of people and she has several awards for her watercolors. Her watercolor eye series is part of the art collection of the Eye Institute of University of Houston. The show at EDOT Gallery, September 1-October 30 covers a wide breadth of her subject matter, from inspirational to portraiture.
Visit janitalo.com for more information on her new book: Rising Son, Reflections of a Chinese Gentleman Warrior.