Icon Exhibit offers visual Theology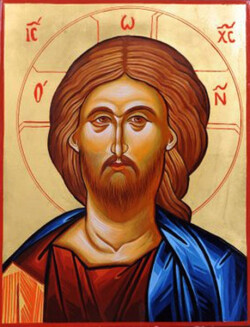 Nole Me Tagere by Green
This Advent, two iconographers' work will be featured at Edot Gallery, in the Houston Diocesan Center, 1225 Texas Ave., Houston. Vivian Karayiannis is a trained Byzantineiconographer and the Rev. Mary Green, originally a studentof Karayiannis', has now written a book on the subject. Both women will show their work and lead a Sunday school class a tChrist Church Cathedral on icons, December 11. Th e exhibit isopen November 10 through January 6, M-F, 9-5.

An icon is a painted panel of a religious fi gure or event. Justas medieval monks copied ancient sacred texts, icon paintersof long ago copied ancient, iconic originals, to serve as visualtheology. To avoid the taint of idolatry, icons were created ina formalized, deliberately stylized manner that emphasized other worldliness rather than human feeling or sentimentality. The process was codifi ed in Russia in the 16th century and demanded strict emulation of the existing format so that artists would not depart from the iconographic canon.
Since icons are considered sacred images that convey theological truth, painting an icon is referred to as "writing"an icon. Each step in writing the icon, as well as the material sused, has sacred meaning. Many icons are written on traditional wooden boards, with an indented space within which the image is painted. Each board is fi rst covered with linen andmany layers of gesso (made from marble dust) before the imageis outlined. Th e pigments used to paint the icon are ground minerals, and the colors are symbolic: red symbolizes the bloodof Christ and martyrdom; white, purity; blue, truth; gold, theglory of God.
A nurse by training, Green attended Seminary of the Southwest, Austin and was ordained in 1992. She served as vicarof Christ Church in Cedar Park before joining the chaplainsgroup at St. Luke's Hospital, Houston and now teaches at thediocese's Iona School of Ministry. She began her training iniconography because she wanted to learn to paint portraits, topaint Christ's face. Karayiannis tried to explain to her that—theprocess is not "that easy or logical."
"It took me a while to realize that making icons is a religiou sart, it is sacramental and done for the benefi t of the person whowill interact with that icon," Green said. "One has to surrenderto the process and realize that it is a spiritual discipline of prayer,guided and enabled by the Holy Spirit."
"It takes time to understand the importance of the processand the discipline. I cannot paint just any time. When I feela divine intervention, it comes out on the icon—you feel it,"Karayiannis said. A classically trained Byzantine iconographer,Karayiannis was born in Greece, where she studied, then worked for one of the leading iconographers in Greece. Aft er a brieftime in Toronto, she moved to Houston in 1991, where she liveswith her husband and two daughters.
The first images that appeared were infl uenced by complex historical contexts and many cultural dependencies as wellas the war of the holy images during which the iconoclastsdestroyed innumerable icons. The first images were paintingsfrom the third century, showing Mary with the wise Menadoring the Child.
In the fourth century, Constantine's conversion served to fuel an esthetic period for the next several centuries. Following the Third Ecumenical Council, held in Ephesus in 431, Mary, who was there proclaimed to be the Mother of God, beganto appear in images with the divine child on her lap. In 730 adoctrinal war arose between partisans and enemies of icons,which ended in 842 when icons were once again exalted. Byzantine icons became an integral part of the Orthodox faith during the Byzantine Empire. They were used to express inimages the same Gospel message that Scripture communicatesin words. Image and word illuminate each other, while neithercan substitute for the other.
While they were suppressed in Soviet-era Russia, theyenjoyed a revival in the 20th century, further stimulated by thecollapse of communism in Eastern Europe in the 1980s.
Icons are sacred paintings of Jesus Christ, Mary andmany angels and saints characterized by vivid colors and oft engold colored backgrounds. Th ey are embedded with symbolic language, a "visual theology," Green said. "Th ey are huge withmeaning."
For example, the ears of Christ are large and his mouth issmall to signify that he hears everything but only speaks wordsof holy wisdom. Icons only seem to have a width and a height,no depth as traditional paintings. Th e third dimension of anicon is spiritual and therefore goes beyond what the eye can see. Icons are a window into the sacred andenable one who is praying to the person depicted to connect directly with thatperson. As St. Paul said, "Christ is thevisible image of the invisible God" (Col.1:15).
Illumination by the Holy Spirit is animportant part of an iconographer's abilityto express the living truth. Because of thesacred nature of an icon, it follows that theicon "writer" be more than an artist. Aniconographer is a theologian as much ashe is an artist presupposing a lifestyle of prayer and meditation.
"When a person is learning, theydon't really have time to contemplate. Students have to have patience to learn toget to a certain skill level so it can become contemplative," Karayiannis said. She hastaught classes at St. Christopher's andSt. Mark's in Houston as well as private lessons.
"Some people have the attitude that you can just pick this up," Green pointed out. "It's more than a skill, it is a spiritual discipline."
It can take a month or several yearsto complete an icon. Gold leaf used to costhas doubled, today it has doubled. Boardson which icons are painted come from twosources in the Unite.