Malawian Brings Unique Perspective in Acrylic on Paper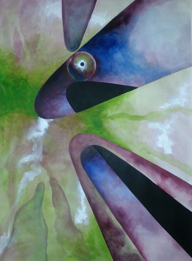 "Rapture," acrylic on paper
Exhibit opens June 20
EDOT Gallery in Downtown Houston: 1225 Texas St.
Opening 6-20-13, 5-7 p.m., through August 10, 9-5 p.m., M-F
Massa Lemu is a visual artist and critic who will show his work at EDOT Gallery this summer, June 20-August 10 in downtown Houston. The artist focuses his work on contradictions of globalization, post-colonialism and new media. He has held a fellowship in critical studies at Houston's Museum of Fine arts for the last 3 years and plans to return to his native Malawi in August. He has formerly exhibited at Lawndale Arts Center, and Rice University, in Houston; the French Cultural Center, Blantyre and the Capital Hotel, Lilongw, Malawi; in Dallas, Savannah and Atlanta. His essays have been published by artandeducation.net, Museum of Fine Arts Houston, and Might be Good. Lemu holds a fine arts degree from University of Malawi and a masters in painting from Savannah College of Art and Design.
The gallery is in the offices of the Episcopal Diocese of Texas at 1225 Texas St. on the corner of Texas and San Jacinto.