Diocese of Texas Confronts Devastating FIres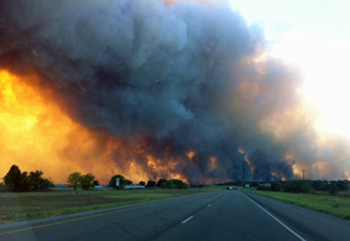 View from Highway 71 Near Smithville | (Kait Berreckman)
As fires are raging across the state, parishes in Diocese of Texas are working to help tame the blazes and care for the homeless. At last report, over 1,000 homes have been destroyed and thousands of families have been evacuated as drought stricken forests and high winds fuel the flames.
One of the worst fires is burning just outside the town of Bastrop, east of Austin. Calvary Episcopal in Bastrop first acted a shelter for some families, but was then evacuated as the fires approached downtown.
"As of yesterday when I spoke to the Rev. Lisa Hines (rector of Calvary), 12 parishioners had lost their homes," said the Bishop of Texas, the Rt. Rev. Andy Doyle.
On the west side of Austin, St. Luke's on the Lake is acting as a resource center for a fire that has destroyed much of Steiner Ranch, a nearby neighborhood that has lost at least 25 homes. St. Luke's is gathering food, water, and supplies for families that are currently displaced, and the media are currently using the church as a broadcast point for their coverage of the fire. The church plans to host a dinner for residents of Steiner Ranch this evening from 5-8 p.m.
"At this point, we have plenty of bottled water, Gatorade, and food, but want to be prepared in case residents are allowed to return to their homes today," said parish administrator Nancy Phillips. The church can be reached 512.266.2455.
The Episcopal Church of the Resurrection, Austin, is also acting as a donation center. Their Thrift Shop is collecting donations of clothing, housewares, and toiletries. ECR can be reached at 512.459.0027.
Closer to Houston, a fire in Grimes County has shut down several roads near Camp Allen, the diocesan conference and retreat center. Though the fire is still a safe distance from the complex, Bishop Doyle and Bishop Suffragan Dena Harrison have decided to cancel the planned executive board meeting scheduled at Camp Allen this week.
"Our folks are under a lot of stress out there, across the diocese," Bishop Doyle said. "Anything they need, we are looking to help them."
In other areas around the diocese, several parishioners of Good Shepherd, Tomball have had to evacuate from fires northwest of Houston, and parishes in northeast Texas have also felt the effects of fires. In Longview, St. Michael and All Angels' as well as Trinity Episcopal have reported smoke-filled skies from fires burning near Gladewater.
"Most of us woke up this morning with ash-covered cars," said Donna Armstrong, Trinity's parish administrator. "Its a little unnerving, but so far none of our parishioners have been directly affected."
Many Episcopalians are working in the field as firemen, battling the blazes, while others are preparing for the worst.
To prepare your church and family for future disasters, visit our preparedness page or download our preparedness and planning guide.