In the Middle of Raging Wildfires, Texas Churches Offer Hope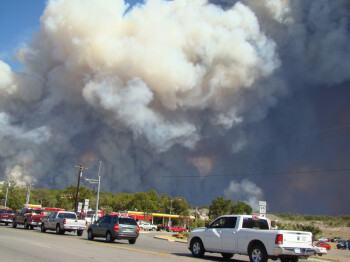 image from Bastrop, Texas
[Episcopal News Service] The wildfire raging about 30 miles east of Austin, Texas, had already claimed her home, so the Rev. Lisa Hines was taking no chances Sept. 6. She carefully packed Eucharistic vessels from Calvary Church, Bastrop, into her car, in case a speedy getaway became necessary.
"Our lost-houses count has gone way up from yesterday, including my own, and continues to rise by the minute," Hines said during a Sept. 6 telephone interview from the downtown historic church.
"I know for certain that 15 homes are lost, but I suspect there are many more and that many more have been displaced and are waiting to see if their homes are lost," added Hines, whose husband, Chris, is the son of former Episcopal Church Presiding Bishop John Hines.
"We are hearing now of fire nearing downtown, so the mood isn't good, but no one as yet has told us to evacuate," added Hines, Calvary's rector for one year.
Still, she said the church was about "offering hope" even in the midst of devastating fire, in the midst of uncertainty.


"You find hope in the community, because people are calling from all over wanting to know what they can do to help us," she said. "Those of us who are all in the same boat, are supporting each other. No one is feeling isolated or without possibilities -- that's the hope.


"It's sad, it's very sad. It's grim, but no lives (here in Bastrop) have been lost and that's good news," she added.
Calvary joined other churches partnering to gather household and personal items for people displaced by the blazes burning unchecked in Bastrop for a third day.
Plus, Hines was planning a 7 p.m. worship service. "We're going to gather tonight, and sing 'A Mighty Fortress is Our God' and some of those wonderful evening hymns we never get to sing and just pray together," she said. "I imagine we'll do a little crying together because we're still in the middle of it. We're not on the other side of it yet."


The fires near Bastrop were among numerous blazes reported throughout the drought-besieged state. Wind and lack of rainfall hampered efforts of firefighters to contain the blaze, which destroyed more than 1,000 homes and scorched an estimated 3.6 million square acres of land, an area the size of the state of Connecticut. The fire reportedly has killed at least two people and displaced thousands of others.


Bishop Andy Doyle of the Episcopal Diocese of Texas said the diocese is mobilizing to offer aid in dozens of ways. "Our folks are under a lot of stress out there, across the diocese," he said. "Anything they need, we are looking for ways to help them."
Luke Blount, a diocesan communications officer, agreed. "We always have fires, but this is the worst it's ever been, I think," he said in a Sept. 6 telephone interview.
Episcopalians were among those evacuated throughout the diocese and among those offering aid and assistance and also fighting the fires, he added.
A diocesan spokesperson said that John Alexander Jr., son of Bishop J. Neil Alexander of the Diocese of Atlanta, was among the firefighters battling the blaze.
Near Houston, a fire in Grimes County shut down roads near Camp Allen, a popular Episcopal retreat center and meeting site, resulting in the cancellation of an executive board meeting because officials "didn't want to take any chances."
Several congregations converted parish halls into temporary storage for personal items and furniture for the displaced, and even shelters for the homeless.
Volunteers at the Episcopal Church of the Resurrection in Austin were overwhelmed with donations for fire victims, according to the Rev. Jim Stockton, rector.
"We're filling up our parish hall with donations of all sort—furniture, household goods, clothing, nonperishable foods and toiletries—and we'll transport those to the distribution centers," he said during a Sept. 6 telephone interview.
Mary Miner, parish secretary at St. Luke's on the Lake in Austin, said the church has been serving as "an information hub" and resource center for local police and fire officials, and a gathering spot for residents displaced by the fire. The church is located near Steiner Ranch, a neighborhood that has lost at least 25 homes in the fire, she said.
"Some people look like they're in shock. Some are anxious; a lot are very calm," Miner said. "We're in a waiting-and-seeing mode. We've been reading the people and what they need at the time.
"We've had a lot of dogs, too, which has been fun," she added.
Local restaurants pitched in and donated food, she said. "We had a lot of people sheltered here; we were giving them food and water, spiritual support. Right now, they're letting some of the residents back into Steiner Ranch, but they still don't have power. We are serving a free dinner tonight between 5 and 8 p.m. for anyone who can't or doesn't want to cook," she added.
"Everything has gone smoothly, considering the chaos that's ensued because of the fire," she said. "It's been a blessing for us to be able to help. I think the church should be able to be relied upon in crisis situations."
Elsewhere across the state the fires, some of which had been burning for nearly a week, were more contained.


Barbara Duffield of the Diocese of West Texas said that although "we have wildfires in the area, to my knowledge no churches or parishioners have been affected.
"There have been structures burned, but not anything that belongs to us that we're aware of," she said.
"It is so dry, and we really need the rain, but that's not happened yet," she added.
Winds had calmed in the Episcopal Diocese of Fort Worth, helping firefighters contain an enormous fire in Palo Pinto County known as the 101 Ranch Fire that burned an estimated 39 homes.
"No Episcopal church, school or camp has been harmed," said Katie Sherrod, diocesan communications director, who said the fire was 85 percent contained.
Bishop C. Wallis Ohl called for "the prayers of the whole church, especially for the firefighters, who have had no respite all summer from these fires; for all the people who are suffering from these fires, especially the landowners, the livestock, indeed, the wildlife. All of God's creation is suffering. Pray for rain."
Attempts to reach the dioceses of Dallas, Northwest Texas and Rio Grande, which includes about 12 Texas congregations as well as churches in New Mexico, were unsuccessful.