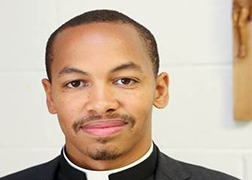 The Rev. Charles Graves IV has accepted Bishop Doyle's invitation to become the new Canterbury Campus Missioner in Houston, the Diocese of Texas announced April 30, 2019.
Graves was most recently clergy resident and priest associate at Church of the Advent in Cincinnati.
"We are thrilled that the Rev. Charles Graves IV will bring his gifts and experience to our exceptional team of missioners reaching out to college students. Given the number of recent transitions in this group, we anticipate many new and creative ideas in the years ahead," said the Rev. Canon Joann Saylors, canon for mission amplification.
Graves is the third Campus Missioner hired within the month of April in the diocese with the aim of expanding and providing more support to college students in the Houston and Austin areas. Recently this month, the Rev. Sarah Condon accepted the call as college missioner at Rice University in Houston, while the Rev. Travis Helms will be the college missioner in the Texas capital at the University of Texas, Austin.
"I am beyond thrilled to join the incredible ministries of Houston Canterbury & St. Luke the Evangelist across the campuses, throughout the city and beyond. What an honor to serve Our Lord among the superb team that is the Diocese of Texas," said Graves.
A native of Maryland, Graves is a seventh-generation cradle Episcopalian. He completed his undergraduate degree at Hampton University and served as a community organizer, campaign manager and in a U.S. Senator's office on Capitol Hill before completing seminary at Yale Divinity School.
He is proficient in Spanish and Italian, he has also been a leader in multiple international missions, most notably as a published researcher in Ghana and as an Episcopal missionary serving refugees in Italy. For fun, Charles enjoys exploring around the city, taking time off at the beach, traveling, learning languages and most importantly, seafood.
Graves begins his ministry July 1, 2019.