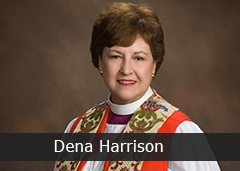 As a symbol of your gratitude for her selfless devotion, I invite your congregation to make a contribution to the "Harrison Purse" which will be presented at a farewell dinner for Larry and Dena on Thursday, February 21 at Diocesan Council in The Woodlands.
ContactAndre Kierkiewicz, CPA - Controller, at 713.353.2127 with questions.
Please make checks payable to The Episcopal Diocese of Texas, marked e.g. "Houston area flood relief," and mail to 1225 Texas St., Houston, TX 77002.
If you,
work for a matching company
would like to make my contribution in stock
want to make a provision for a gift in my will
Please contact David Fisher, Director of Foundations, 713.520.6444 ext. 1043.