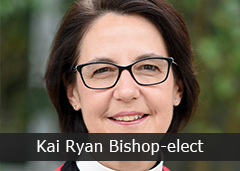 Kai Ryan was elected on February 22 as our new bishop suffragan. It is customary for the clergy of the Diocese to share in the cost of the Episcopal ring. You can make a gift here.
ContactAndre Kierkiewicz, CPA - Controller, at 713.353.2127 with questions.
Please make checks payable to The Episcopal Diocese of Texas, marked e.g. "Houston area flood relief," and mail to 1225 Texas St., Houston, TX 77002.
If you,
work for a matching company
would like to make my contribution in stock
want to make a provision for a gift in my will
Please contact David Fisher, Director of Foundations, 713.520.6444 ext. 1043.