The Rev. Canon Kathryn 'Kai' Ryan was elected February 22 as bishop suffragan for the western region of the Episcopal Diocese of Texas.
Kathryn
'Kai'

Ryan Elected New Bishop Suffragan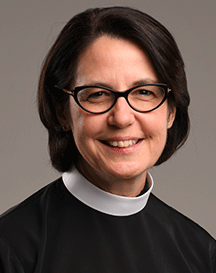 download photo
I came out of the delivery room at the Miners' Hospital in Raton, New Mexico and into the font at Holy Trinity Episcopal Church. Life in the Church reveals the rhythms of God's grace and guidance for me. The youngest of four daughters, I attended public schools in Albuquerque. Enjoying athletics, I competed in gymnastics, track, and cross country. My life in Christ and my leadership gifts were nurtured, while a youth, in camping ministry, the Happening movement, and parish committees, including one that resettled a refugee family. On receiving my B.A. at Sewanee, I returned to Albuquerque to gain employment experience required before seeking ordination. At Sewanee, I met Tim Ryan, and we married in 1989. We have two children, Ned, 22, and Eleanor, 16. After an MDiv at Seminary of the Southwest in Austin, I spent 20 years in parish ministry, including 14 years as rector of Ascension, Dallas. There I learned from brothers and sisters of other cultures how to lead a multi-ethnic community. Since 2014, I have served as Canon to the Ordinary of the Diocese of Texas, leading the ministry staff in its work to implement the diocesan vision.
Please add our new Bishop-elect to your prayers of the people: "our Bishops, Andy, Jeff, Hector and our Bishop-elect, Kai."
Ryan, 54, currently serves as Canon to the Ordinary for the Diocese of Texas. She was elected to become the next bishop suffragan as lay and clergy delegates gathered at the 170th Diocesan Council at The Woodlands Waterway Marriot. Ryan received 283 of 441 votes cast in the lay order and 137 of 235 cast in the clergy order on the first ballot.
I am so grateful to the search committee and the transition committee and all who have worked on this process over the past year. This has been a really long year and the fact that we got through it has been a result of walking together.